by Ben Bays - Executive Producer/Writer
It was little less than a year ago when I sat down at the Landmark theater in Columbus Ohio to view my friend John Jackson's 48-hour film premiere. I had heard that the shoot went well and Bryan Block said that it looked like a fantastic "living comic book." But I had no idea what to expect, especially from a 48-hour project. The lights went down, the logo appeared on the screen, and a few seconds into the film my jaw hit the floor.

I couldn't believe what they had pulled off in just 48-hours. I left the theater that night wanting to see more. I wanted to find out why Aidan's clone went on a killing spree. I wanted to learn about the other characters we only got brief glimpses of, and I wanted to discover what else that world had to offer. Essentially, I wanted more Aidan 5.
A few months later, I approached Johnny about turning the concept into a web series. The idea was simple: follow the 48-hour model and create an entire series with no budget, an all-volunteer crew and a limited time frame. Creativity and elbow grease are the only resources.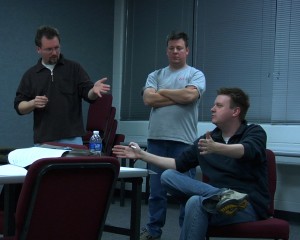 We set up a few initial meetings with the original 48-hour team, huddled in a corner booth at Panera Bread, or devouring a stack of chicken wings at BW3s. We tossed around ideas about the characters and the world, essentially brain-dumping our collective idea of what Aidan 5 was into a flurry of notes and e-mails.
Then, over the course of the next several months, Johnny and I hashed out the story and character arcs, ending up with three potential seasons of episodes with room for more. Early on in the spring we met with co-creator, Tim Baldwin and writers Vidas Barzdukas and Noell Evans. We pitched them the new story, after which, they immediately jumped on board and began hammering out scripts.
For reasons based more on location, noise level and closing time, we found that a local Applebees ended up being the place for our regular writer's meetings and a large round booth hidden at the back of the restaurant suited us just fine.
With a production date of June 27th looming on the horizon, we began to assemble the production team. Some had returned from the original 48-hour short, and many new faces signed on as well. All of them volunteered their time, skills and in many cases, equipment. Construction of a giant green screen wall began in the scene shop of Production Designer and friend, Chris Clapp.
Centered around stacks of stored lumber, stagecraft walls and sawdust, this would be our "sound stage" for the next 4 months. I noticed Chris sitting in the corner of the shop one afternoon with his head in his hands, laughing. "I can't believe my entire job on this project is to make sure the set won't be seen on camera."
Casting began, headed up by the lead actor Bryan Michael Block, along with Vidas Barzdukas and Co-Producer, Shawn Likley. They set up sessions every weekend for a month at various public libraries around Columbus. Local actors came from far away as Indianapolis and Kentucky. The turnout was quite large given that once again the project was volunteer only.
The post-production team led by illustrator/compositor Ben Brown began to prepare for the large number of shots that would start coming in, and Johnny began his storyboards for the upcoming shoot.
During the final production meeting we went over any last minute issues and questions. The task was to shoot three episodes in one day and the schedule would be grueling. A 6:00AM call time would be preceded only by two meal breaks and a wrap scheduled for 1:00AM.
As I sat there in the meeting, I was struck by the commitment of these people/friends/colleagues, all giving their free time and skills to this small project. Without their professional dedication, this simply wouldn't happen.
Not long after that I found myself standing on the stage with lights blazing and crew members running around. The actors took their places against a sea of brilliant green. The cameras framed and focused. Silence fell on the set and Johnny checked the monitor. — "Action!"
One Response to "No Sets, No Budget, No Problem…"
Fantastic job, everyone! This is very exciting - can't wait to see What's Next!!
Cheers ~
Emily